Author Michael Hjort and composer Camille N. Curtis based A Little Princess on the Frances Hodgson Burnett classic children's novel of the same name. It is the story of a little rich girl, Sara Crewe, and her struggle to survive in a London boarding school during World War II.
The show opens with a rousing production number, 'Of The Populace', where we meet London street mongers Pearl and Alf, seminary owner Miss Minchin, our title heroine Sara Crewe and her widowed father Sir Ralph. The song ends with the announcement of the outbreak of World War II.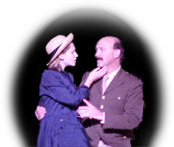 Sara's father, a captain in the Royal Air Force, must leave her at Miss Minchin's seminary. In a touching scene, Sara and her father say good-bye to each other, and sing 'All Girls are Princesses'.
Sara makes new friends quickly and becomes a favorite of Miss Minchin and her other teachers: Miss Minchin's younger sister, Amelia, and French teacher, Pierre Dufarge. She becomes a role model to the oppressed servant girl, Becky, shy Ermengarde, and motherless Lottie, who is comforted by Sara singing the beautiful song 'That's What Angels Do'.
One night, Amelia leads a reading session, and decides to spice it up with an energetic song about a legendary fighter pilot from World War I in 'Boogie Woogie Fly Boy'. The scene ends with Miss Minchin receiving the news that she is facing bankruptcy.
When word is received that Captain Crewe has been killed in action, Sara's world collapses. Miss Minchin conspires with her greedy lawyer Mr. Barrow to steal Sara's inheritance from her in 'What Are We To Do?'. Sara is stripped of her possessions and forced to live in the seminary's attic with Becky. At the end of Act I, we find a grief-stricken Sara in the attic, struggling to believe that she, like all girls, is still a princess. She leads the entire cast in a haunting song about love and loss,'If I Could (Just One More Time)'.
In the opening of Act II, we learn that Captain Crewe is alive in France, but suffering from amnesia. He is rescued by three French resistance fighters who decide to take him to London where they have a comrade in hiding. This comrade is the seminary's French teacher, Pierre Dufarge.
Meanwhile, Sara begins work in the seminary's kitchen. There, the seminary's Cook introduces Sara to her profession with the energetic production number Pies with the chorus in the marketplace. Sara's life becomes quite bleak, but she still has the love and support of her "fellow princesses,". The manservant from India, Ram Dass, keeps Sara's hope alive with the mystical song Hidden Souls. The next morning Sara and Becky awake to find the dreary attic transformed by what Sara believes is 'The Magic'. 'The Magic' must be real, for that very day Sara is reunited with Captain Crewe.

"A Little Princess" has many colorful characters for both adults and children. For children, besides Sara, there are Becky, Lottie, Ermengarde, and several other students including the spoiled and hateful Lavinia. There is also a little boy of the war torn London streets, Eddie.
For adults, there is Miss Minchin and the lawyer, Mr. Barrow. Miss Minchin's young sister Amelia and the French teacher Pierre Dufarge provide the play's love interest. Other colorful adult roles include the seminary's Cook, the Eastern mystical Ram Dass, the street mongers Pearl and Alf, three comical French resistance fighters, Captain Crewe and the mysterious Lady. The show will also accommodate a sizable chorus of adults and children.
4 Women
8-9 Men and Teenage Boys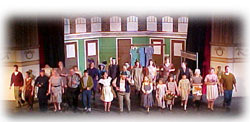 8 girls (ages 6-16)
1 young boy
chorus of variable size
"A Little Princess" had its world premier in January of 2000. It smashed
all box office records in the 500 seat theater's 20 year history. Audiences
were alternately delighted and saddened as the story unfolded, and treated
the cast to cheering standing ovations at the conclusion.