ABOUT PRINCESS MUSICALS AND THE CREATION OF "A LITTLE PRINCESS"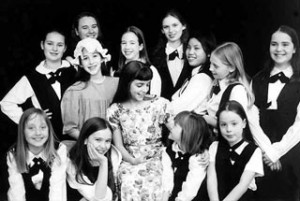 Camille Curtis and Michael Hjort were first introduced at a 1997 alumni musical variety show, by their high school music teacher.
Michael had been working on an original script for A Little Princess and needed a collaborator to write the music. He impulsively asked Camille if she composed music and she agreed to look at his script and lyrics. The first set of lyrics Michael gave to Camille was the song 'All Girls are Princesses'. Within a week Camille finished this song and Michael thought that she had perfectly captured the mood of the song with her beautiful melody.
The script and the songs were written and re-written. Entire songs were completed and then scrapped. In just over two years after Michael and Camille's first meeting, 'A Little Princess' had its world premier at a 500-seat theater and the show was a smash hit. Critics raved about it and the local newspaper editorialized about what an honor it was to have this show premier in its hometown. But more importantly, the audiences reacted enthusiastically performance after performance, showering the actors with thunderous applause, cheers, and standing ovations at the end of each show.